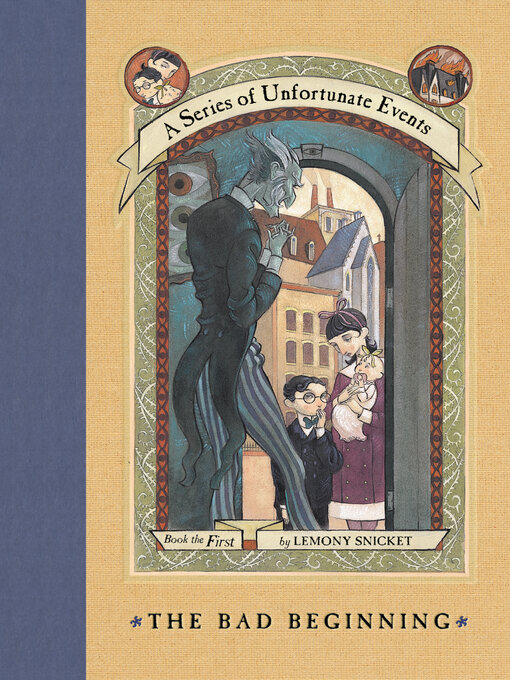 "A Series of Unfortunate Events" has got to be one of my favorite series. Does anyone else think that Lemony Snicket is a genius? For those of you who have never read a book by Lemony Snicket, let me give you a warning: These books are mysterious, confusing, fun, and very addictive.
"The Bad Beginning" is the first book of thirteen in the series. We are first introduced to the three Baudelaire children. There is Violet, the eldest. She is fourteen, and loves to invent new things as a hobby. There is Klaus, the middle child. At the age of twelve, he has read many of the books in the Baudelaire's mansion library. And then, there's the youngest, Sunny. She's a baby who, like many other babies, loves to bite. The three receive devastating news one day. There was a fire, burning their mansion.
Thus, the series of unfortunate events begins. They must go live with a relative, Count Olaf. They ponder the reason they've never met him, but soon assume why. In our story, he's the villain, who tries to steal the Baudelaire fortune from the children.
This book is fictional, and therefore never gets very deep or sad. In most instances, I find it humorous and exciting. You begin to warm up to the characters, until you feel like you know them. But the characters aren't even my favorite part. What I really, really love is Lemony Snicket's quirky writing. He seems to read your thoughts at times, which really draws you into the stories. Here are a couple quotes:
"But even given the surroundings, the children had mixed feelings when, over a dull diner of boiled chicken, boiled potatoes and blanched-- the word "blanched" here means "boiled"--string beans, Mr Poe announced that they were to leave his household the next morning"...
"There are many, many types of books in the world, which makes good sense, because there are many, many types of people, and everybody wants to read something different. For instance, people who hate stories in which terrible things happen to small children should put this book down immediately. But one type of book that practically no one likes to read is a book about the law."...
"The car drove farther and farther way, until Justice Strauss was merely a speck in the darkness, and it seemed to the children that they were moving in an aberrant--the word 'aberrant' here means 'very, very wrong, and causing much grief'--direction."
That last quote is actually the last sentence in the book, so you can see that the books usually end in a cliff-hanger type way, while still summing it up. Now, before I go into more details, I would like to point out that this series is very peculiar, and so many people were disappointed by the thirteenth book. So, if you get started on the series, don't expect to have all your questions answered by the end.
Now, personally, I loved this book, as well as the whole series. When you come down to it, books are mainly for entertainment purposes, and these books kept me entertained for many hours. "The Bad Beginning" is 162 pages, and so it is actually a pretty short story (of course, the series makes one long story), with 13 chapters. I give it 5 stars, and I think that anyone would enjoy it.
Natalia